"Rock Solid"
"With their stunning vocals, dazzling instrumentation, reimagined standards and terrific original numbers, Rock Ridge is the premier voice of the Northwest traditional bluegrass sound."                  Linda Leavitt 
Oregon Bluegrass Association 
Editor, Bluegrass Express 
Creative Director, Banjos West, 2023 
"The Flood by Rock Ridge is a recording of exceptional quality featuring beautiful harmonies, superb material, strong instrumentation and a keen attention to detail. This is a recording that should put Rock Ridge firmly on the bluegrass map. You owe it to yourself to check it (and them) out. "  Gareth Jenkins, KBOO Radio Bluegrass DJ, 2023
"The band was perfect for my event. They could not have been more professional and accommodating. High recommendation for the Rock Ridge Band!!" -- Beth T, Glen Ellen, CA, 8/4/2012
"The band was on time, professional, well dressed and very talented. They were fun, polite and easy to work with. EVERYONE at the celebration loved their music and they absolutely made the event special. I will definitely hire them again and recommend them to others."  Lisa J. Roseville, CA  7/15/2016
"Rock Ridge was perfect for our event.  Josie and the band are professional, personable, and talented. In addition to a strong repertoire of bluegrass standards and originals, they welcomed the opportunity to stretch out musically and learn a few cover requests ranging from a Jerry Douglas instrumental, which was a recurring song throughout the ceremony and reception, Aretha Franklin, Frank Sinatra to Waylon Jennings and The Talking Heads -- and they nailed them!  I wouldn't think twice about hiring Rock Ridge for my next event."  John D, 2017
"The Rock Ridge Bluegrass Band was a major reason my daughter's wedding was such a fabulous event. I was initially skeptical, but from the beginning of their performance all doubt evaporated. They are not only very talented but thoroughly professional in every way. As background sound they were not in any way intrusive; their music was well chosen and suited the atmosphere to a tee. As the primary music for the ceremony itself and the reception afterward, they were a pure delight. Their rendering of "Rock Me Momma" to which the newly-weds danced the first dance was for me the highlight of the reception. Josie's voice is absolutely beautiful; her intonation and interpretation of the music were perfect. I was able to speak with a couple of the band members and was struck with their genuine friendliness and their love for what they do as musicians. I highly recommend them."  Robert Curtis, 2014
Father's Day Bluegrass Festival - Grass Valley, CA 2011
I went on Thursday night to watch a couple of standout bands in the genre: Rock Ridge Bluegrass Band and The Steep Canyon Rangers. Rock Ridge are the hard hitting traditionalists of the two (although they're not altogether guiltless of some modern flourishes). The banjo is strong in Victor Skindanenko with added excellence from Rick Grant on the mandolin/fiddle. While Josie Grant (lead vocals, rhythm guitar) looks extra petite behind her big guitar, her highly charged, dexterous vocals along with the band's traditional choreography (weaving in and out of center mic) go without a hitch. Jon Schaffer (upright bass, vocals) throws a lot of muscle into the vocal harmonies while also contributing noteworthy originals to the band's register. The embodiment of traditionally rooted original songs with bluegrass and gospel standards showcases an unencumbered dedication to the genre that sets them apart from a myriad of similar outfits.  From Festival Review:  Jokes Your Dad Makes Edition
Rock Ridge "Drifter's Prayer"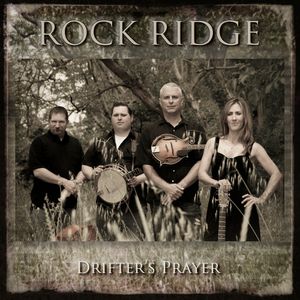 As the bluegrass community awaits the new album from the group Rock Ridge, some people may not be aware of the Northern California band's debut album titled "Drifter's Prayer." However, it is not to be missed.

"Drifter's Prayer" begins with tight harmonies on the cut "Blue Eyed Boston Boy." The track has a quiet but palpable confidence that is winning, and the instrumentation is almost flawless. The traditional "Quiet My Love" impresses as well, but it is the upbeat "Tom Dooley" that showcases the unbridled musical joy that makes Rock Ridge a favorite with concert audiences. "From Now On" has much of the same charm.

The biggest surprise on Rock Ridge's album is the contemporary bluegrass song "Won't You Come and Sing For Me," which emerges as the record's best cut and could find radio chart success. The mountain music song "Hills A 'Callin' Me" is pitch perfect, and "Cold Blue Heart" is the album's best pure Bluegrass track.

The final third of the album begins with the gospel-infused "Happy I'll Be," which provides a useful showcase for the band's terrific harmonies. The love song "Would You Love Me" is also a winner and could also be a bluegrass/country radio chart hit.

The fun quotient rises on the next to last song "Carolyn the Teenage Queen," and the song's lyrics will inspire laughter and head-shaking understanding. The title track "Drifter's Prayer" is saved for last, which is somewhat unusual. However, it proves to be a wise production decision, and it ends the album with a meaty lyrical powerhouse of a song that blends elements of blues, gospel and bluegrass.

The album "Drifter's Prayer" from Rock Ridge is an exceptional example of west coast bluegrass that firmly proves that the best bluegrass music does not necessarily have to come from the Deep South. Indeed, Rock Ridge has the talent and drive to make further inroads with bluegrass fans across America and the world. 
BJ Jones  Country Chart 



 
Northern Nevada Bluegrass Association
Rock Ridge Drifter's Prayer

Although new to the bluegrass scene, Rock Ridge is well grounded in the roots and traditions of the genre. Currently playing out of Durham, California, the group is rapidly making a name for itself in Northern California and was recently "selected to play on the main stage at the CBA Father's Day Festival."

Featured on "dynomite" vocals and guitar is Josie Grant. Her husband Rick Grant plays a tasty mandolin, and Victor Skidanenko picks a driving banjo. Jon Shaffer lays down a strong bass line and also adds to the vocals.

The band covers many traditional tunes. They do a great job, for instance, on "Blue Eyed Boston Boy" and "Tom Dooley." But this CD also includes a few original songs written by Rick and Jon. Do yourself a favor and give a close listen to Jon's title cut "Drifter's Prayer."

This is good, straight ahead bluegrass!  NNBA
California Bluegrass Ossociation
Rock Ridge - Drifter's Prayer
Reviewed by: Brenda Hough
1/25/2012 
©2011

Song list: Blue Eyed Boston Boy, Quiet My Love, Tom Dooley, From Now On, Won't You Come and Sing For Me, Hills A Callin' Me, Cold Blue Heart, Happy I'll Be, Would You Love Me, Carolyn the Teenage Queen, Drifter's Prayer.

Rock Ridge is an up-and-coming bluegrass band based in the Chico, California area. Their song selection includes original songs by bass player Jon Schaffer and songs from traditional and contemporary sources. Band members are Josie Grant on guitar and vocals, Rick Grant on mandolin and vocals, Jon Schaffer on vocals and bass and Victor Skidanenko on banjo. A band's bluegrass punch is often defined by the banjo, and Victor's strong banjo rhythm is clearly in the forefront of the band's sound. The band's vocal trios have a harmonious blend and they perform a close, classic call-and-response style on Jon's original gospel song, "Drifter's Prayer." Victor's banjo sets the tone for their performance of the traditional "Blue Eyed Boston Boy" while Rick's mandolin and the banjo blend in "Quiet My Love" with Josie taking the lead vocal in a variation of "Little Maggie." For those folks who have only heard Tom Dooley done years ago by the Kingston Trio, the band's arrangement of "Tom Dooley" is captivating with its close harmonies and distinctive instrumental interludes. The band is clearly on the move with recent appearances at the Good Old Fashioned Festival and the Americana Festival in Virginia City, Nevada.